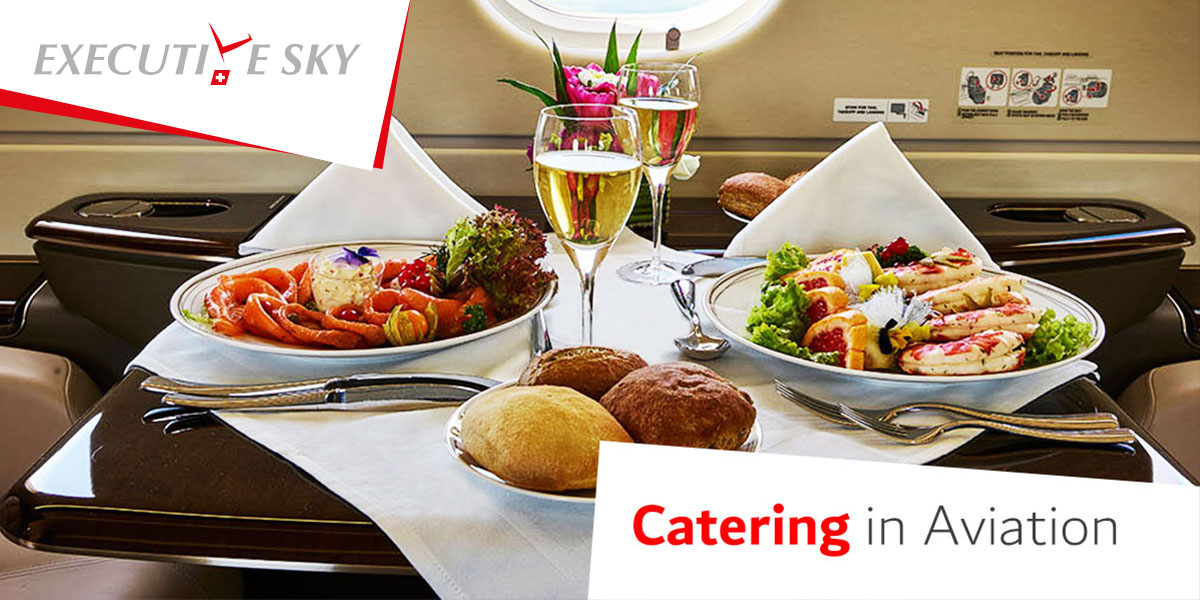 Flight catering is a complex service that falls into the food service industry, catering to a wide range of airlines throughout the world. In-flight meals provided to passengers are a measure of service on an airplane. In the case of the airline industry, companies for flight catering are responsible for preparing the meals that flight crew serve at a voyaging altitude.
This article will be specifically dedicated to flight catering onboard private jets.
A common thing we have all heard from commercial airline passengers is that airplane food is not exactly something they look forward to during their flight, but when you are paying upwards of $8,000 an hour to charter a large-cabin private jet, bad food is something that can no longer be excused.
Serving food at 40,000 ft. introduces a number of problems. For starters, your taste buds become less perceptive, as you lose your taste of salt by up to 50 percent (although for newer private jets that have a lower atmospheric pressure, this becomes less of an issue.) Also, there is the low humidity of the cabin, which weakens your sense of smell and further diminishes your ability to taste and can cause food on board to dry up.
A skilled chef can avoid these problems by seasoning their food with sea salt, knowledgeable use of sauce and packing their recipes with rich 'umami' flavors, utilizing ingredients such as soy sauce, mushrooms and slow-cooked stocks. However cooking for airline and private jet passengers is not just about flavor, but more importantly about hygiene and safety.
Champagne and caviar, elaborate dishes prepared by Michelin star chefs, served to VIP's drinking vintage wine. That might be the image you would expect about dining aboard private jets. In fact, it is by far the exception than the rule, says, experts.
"I serve champagne maybe five times a year," says Steffany Kisling, a contract flight attendant and the founder of staffing and training company SkyAngels.
"The majority of our customer requests for catering are pretty simple; fruit and vegetable spreads, cheese and crackers, smoked salmon.  Cold, shareable platters you'd expect to see at a cookout or cocktail party tend to be quite popular along with simple sandwiches and salads," says Christine Herbert, a spokesperson for NetJets, which operates a fleet of more than 700 private jets for fractional owners and jet card holders. Renee Aivaliklis, Vice President, Client Services at XOJET, a fleet operator focused on the charter market, says her company's experience is similar to the one mentioned.
When people hold meetings on board an aircraft, the food is a big part, as the passenger can maximize their time rather than sitting in a restaurant for two hours. If you ask the person sitting in the back of the aircraft, the service and the food are the most important things in business aviation.
One thing that is true about the private aviation segment, is that the industry is always trying to do whatever it takes to accommodate the customer and exceed their expectations.