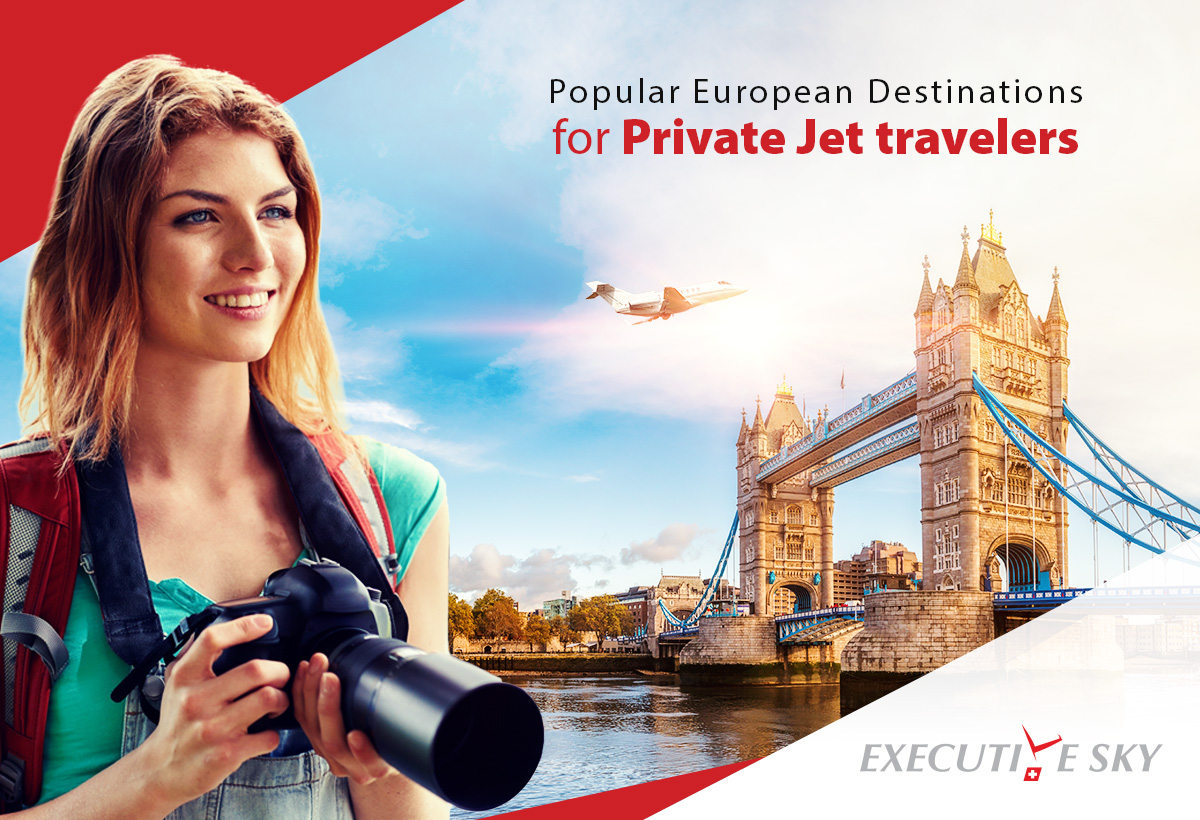 Popular European Destinations for Private Jet travelers
With business aircraft activity in Europe on the rise and the growth of business jets and a higher demand for charter flights, we would like to talk about popular and mostly used airports within Europe.
London
Year after year London proves to be one of the busiest cities in Europe for private jet travelers around the world. The UK's capital is home to four airports frequently used by VIP's or private jet travelers. With London Luton being the preferred airport of choice, Biggin Hill closely follows and is becoming more and more favored by passengers. London Farnborough and London Oxford also make the cut, being airports listed in Europe's top 20! London Farnborough airport was the first operational airfield in the UK. The downside to this airport is that it is not open 24 hours per day, however there are no slots and due to the airport being dedicated to private air travel use, it is free from commercial traffic. Meaning there is maximum opportunity for the clients' requirements to be met when it comes to scheduling, for example. The airport is located about one hour's drive away from the center of London and features direct rail and helicopter transfer connections, as well as offering impressive architecture and views for passengers landing here.
France
Unlike London, private jet travel to and from Paris, the capital city of France is predominantly centered around one airport – Paris Le Bourget. With very few passengers opting to use alternative airports in the city. This is often the busiest airport in Europe as a whole for private jet travelers. Which is not surprising, the airport features three runways and a large selection of FBO's available. All of which, maintain a good reputation within the industry. Additionally there is 24 hours operational status, as well as being a slot-free facility. This airport, along with London's Farnborough airport is an airport dedicated only to business aviation. Another French airport, located in the South of France have proven to be a popular arrival spot for private jet travelers too, also reaching Europe's top 5 busiest airports for VIP's.
The Netherlands
Another exceedingly utilized airport in Europe is Amsterdam Schiphol Airport in the Netherlands. It currently stands as one of the busiest international airline hubs for private jet travelers in Europe, with visitors choosing the destination for business and leisure travel and arriving and departing the airport in the luxury, exclusive VIP terminal. Featuring a highly recommended jet center, located a short distance away from the crowded main airport terminals. Meaning private jet travelers can benefit from privacy, discretion and efficiency when arriving at Amsterdam Schiphol airport. The airport is situated around 6 miles from the center of Amsterdam, allowing for easy and quick access to the city. The drawback of this airport for VIP's is that, the KML Jet Center is not open 24/7 meaning that Charter Brokers and Air Operators often have to use the sister facility, which is based in Rotterdam and is available for 24 hours a day.