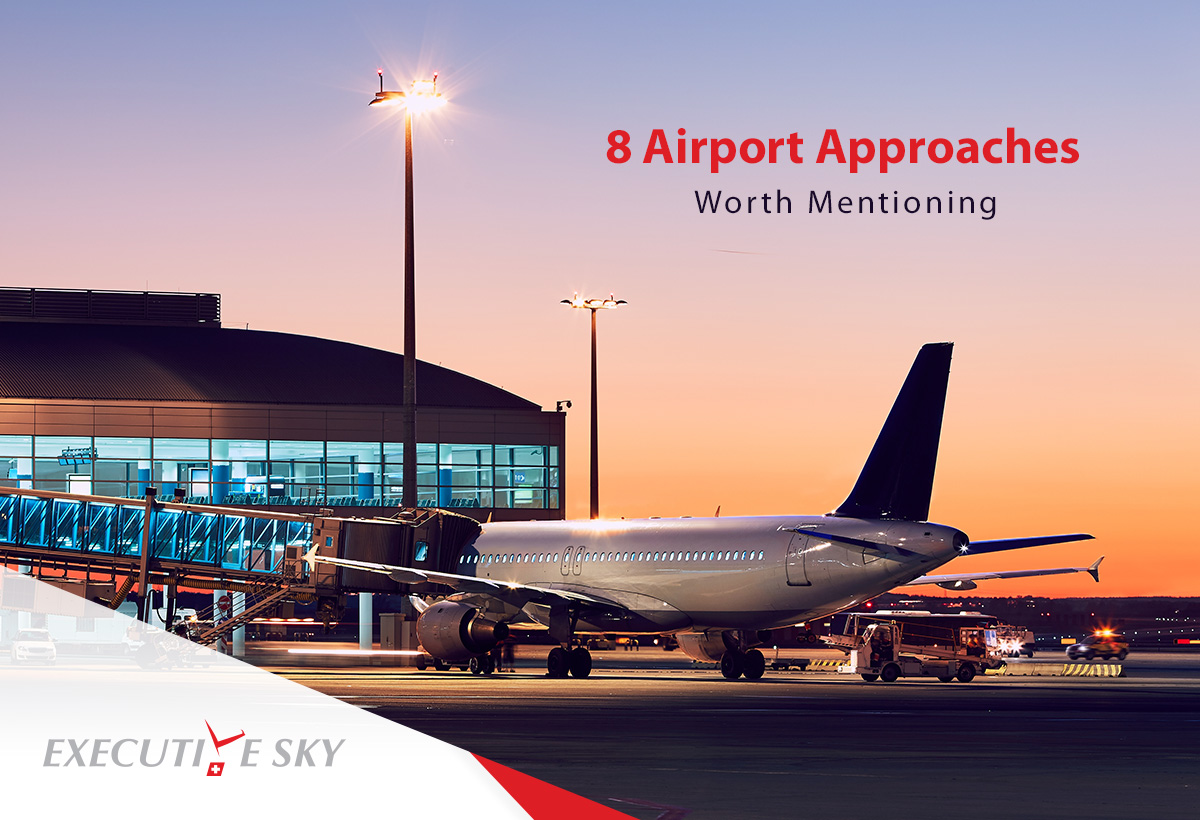 8 Airport approaches worth mentioning.
Often we hear about the world's most beautiful airports or their luxury VIP lounges, and their arrays of fine dining establishments and designer shops. In this article we will discuss 8 airports worth mentioning. The first four listed, are scenic airport runways that happen to be the favorite approaches for many pilots. Then we will take a look at four of the most dangerous airport runways in the world.
London city airport & Heathrow airport
Approaching the capital city of London, from either Heathrow or London City on a clear day means you will enjoy spectacular views of this impressive cityscape. One of the most stunning city spectacles you will see anywhere in the world.
To get the best sights of the abundance of the city's parkland, the Shard, Canary wharf, the London Eye, and St Paul's cathedral. Once you are approaching Heathrow airport from the east, if you are sat on the right hand side of the aircraft, you will witness the breathtaking views of the city of London.
Marseille airport
Marseille airport in the south of France features a runway that protrudes right into the 155 square meter lagoon, off the edge of Etang de Berre. The beautiful blue water makes for a sensational view, especially when taking-off. You can appreciate the picturesque vision, whilst the plane makes way down the runway and ascends above it.
Innsbruck airport
One of the most beautiful Austrian airport approaches, along with Salzburg. Innsbruck airport is famous for being rather difficult to land at, this is because it is surrounded by mountains. Pilots have to navigate around mountains that are thousands of meters high, covered by snowy peaks, before coming into the valley for landing. This ensures passengers onboard a plane to Innsbruck will be guaranteed with incredible views, providing that it is a clear enough day and the sights are not obstructed by covers of clouds. On arrival, the overwhelming view of icy pinnacles surrounding you is a sure way to start your holiday, full of inspiration.
Lijiang Sanyi International airport
Lijiang Sanyi International airport serves as a transportation hub for passengers that are travelling to Yunnan. Offering direct flights to many cities throughout China. The approach of this airport is not for the faint-hearted. If you are a nervous flyer, you may want to opt for an aisle seat, as oppose to a window seat. This is because, before landing the aircraft must fly over colossal mountains and then slowly descend, coming so close to the mountains you almost feel as if you will land on a mountain. Before suddenly turning into a valley. This approach is a little similar to Innsbruck but on a much larger scale.
Now after reading about some of the most striking and exciting airport approaches, you may be considering planning your next vacation to one of these must-see destinations to take a look at their awesome runways for yourself. If you consider yourself a bit of a daredevil, thrill seeker, or all round adventurer, you may want to continue reading to hear about some of the most dangerous airport approaches in the world.
Princess Juliana International airport
This is the main airport of the Caribbean island, Saint Martin. Some tourists choose to visit this destination, just to experience the feeling of a plane flying directly over their heads. This is due to the airport being notorious for its incredibly low altitude landings. Approaching this airport, the runway is directly above the water which can be a little difficult for pilots. They must maintain the ideal altitude, until the second reach the runway. Taking off can also be tricky, with steep mountains nearby making it necessary for planes to take off and immediately make a sharp U-turn to avoid them.
Gisborne Airport
Gisborne airport in New Zealand, is one of the few airports in the world that has two types of transportation running through it, constantly. Running right through the middle of the runway of this airport, is a railway track. Meaning the precision of scheduling is key for the safety of this airport and passengers travelling to, from, or even through it.
Barra International Airport
Based in Scotland, Barra International Airport is the only airport in the world where a beach is used for landing scheduled flights. Without space for the standard tarmac runway, this airport possess three separate runways located on a beach. Only operational when the tide is out, because the runways are sometimes underwater during high tide. This unique airport is situated in the wide but shallow bay of Traigh Mhòr, which is on the northern tip of Barra Island in the Outer Hebrides in Scotland.
Narsarsuaq Airport
Narsarsuaq airport, located in Greenland is one of two airports in Greenland that has capabilities for landings of large airliners. Approaching this airport is one of the most difficult landings in the world, this is due to the length and approach before landing. Pilots must sweep over mountains and through strong and often violent winds to reach it. Excessive turbulence is expected because pilots are forced to fly up a fjord and make a U-turn before approaching the runway. As a result, take-offs and landings are strictly forbidden at night time.